Aluminum
T-Lock™ TeleScoping
GPS Antenna Pole
5/8-inch x 11 thread mount at top for standard GPS antennae or other standard electronic devices.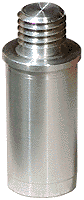 Most rigid very long poles available.
Made with lightweight drawn aluminum, with all metal machined locks pressed into tubing. Useful in elevation of antenna in areas of tree cover or urban canyons where reception of satellite signals is impaired.
Poles are designed to be used at full length during use, segments cannot be locked when not extended. For different pole lengths required, order separate poles.
Segments easily extend to full length and lock up into position with a simple twist to the left. Segment unlocks by moving segment up/down to "sweet spot" at center of "T" and easy twist to the right. Simple.
Poles should be used with LongLegs™ Tripod Gimbal System (optional).
Individual pole Storage case available.
Caution:
Aluminum is highly conductive in any electric environment.

GPS tips can be fit onto fiberglass poles, if requested. Fiberglass is more flexible, with shorter & more numerous segments.
.
See TeleScoping Fiberglass Poles for pole secifications.
.
To Order fiberglass for GPS, specify "GPS tip" in FORM Special Instructions. Or, Order a GPS Adapter for the standard Universal Mount.